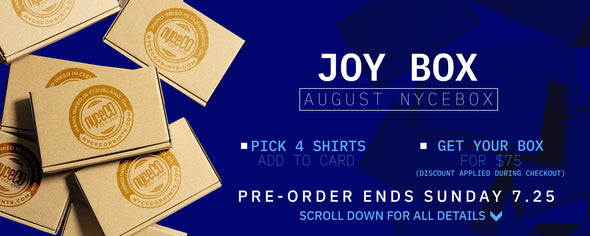 ---
The Joy Box  - August 2021
---
SOLD OUT
Next box will be announced Sunday, August 15th.
---
How the box Works
---
Do you find yourself asking - 'When did this come out' or 'Dang, I missed this drop & you don't have my size anymore'? Don't miss another release with the nyceBOX. Every Third Thursday, we will release 3-5 designs for the upcoming month for pre-order in your nyceBOX. Each month will have a theme, and Items in the box will vary from t-shirts, to hoodies, hats, and a Bonus/Mystery Item.
PRE-ORDERS
The Pre-0rder will will be available for 7-10 days after the release. Guarantee your items by ordering by the deadline. 

CHECKOUT
During checkout, a discount will be applied after you add 4 items from the box collection to your cart.
IT'S YOUR BOX
You can customize your box however you would like. There are various color options for select designs. As long as you add 4 items to your cart from the box collection, you'll receive the discount for the box.
CAN I PRE-ORDER JUST ONE SHIRT?
Absolutely! You can guarantee your shirt's delivery by pre-ordering your tee by Sunday, July 25th. Your shirt(s) will ship out Monday, August 2nd as well. If you want to wait and pick up your order in-store, check the individual product for it's in-store release date. Dates vary & quantities are limited.
Sorry, there are no products in this collection